UP schools adopted by MLAs, officials still await face-lift; some lack basic infrastructure
UP schools adopted by MLAs, officials still await face-lift; some lack basic infrastructure
Only some of the schools adopted by elected leaders and bureaucrats in UP have seen real development. The rest still await teachers, benches, toilets.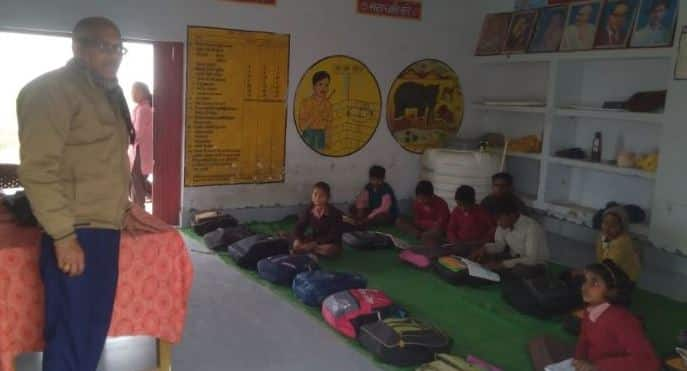 Sanjay
|
Mar 1, 2023 - 11:36 a.m. IST
UTTAR PRADESH: Even nine months after being adopted by a government official, Composite School Gangauli in Uttar Pradesh's Amethi district lacks desks and benches for students. All 116 children in Classes 1 to 8 sit on floor mats. Although the school building is in good condition, it lacks functional toilets for students and needs more teachers.
"We had apprised then Amethi Sub District Magistrate (SDM) about teachers' shortage in our school. Now, we have a new SDM but are yet to get the required number of teachers. She visited the school once and construction of the boundary wall is underway. We are hoping that other problems will be resolved soon," said Brijendra Prasad Srivastav, principal of Composite School Gangauli.
Composite School Gangauli is among 55 government schools of Amethi district 'adopted' by officials and public representatives with an aim to give them a facelift. On April 4, 2022, Uttar Pradesh's chief minister, Yogi Adityanath, launched 'School Chalo Abhiyan' and sought support from gazetted officers, lawmakers, panchayat and municipal representatives in "transforming" government schools. He asked officials and public representatives to equip state-run schools with the basic facilities as set out by Operation Kayakalp.
Following the UP CM's directives, a total of 9,513 government schools in 75 districts were adopted by representatives and bureaucrats.
Careers360 visited six such adoptees across four districts – Sultanpur, Jaunpur, Amethi and Pratapgarh – in Uttar Pradesh and found that the situation has improved for only a handful of schools while the rest are still awaiting attention.
Some development is in progress – the wall at Gangauli, tiling at Pahitiyapur, furniture at Saray Rajai – but most are still a long way from being equipped with all 19 basic facilities listed under 'Operation Kayakalp'. Launched by the Adityanath-led government in 2018 to boost government school infrastructure and build smart classes, the programme's list of facilities include toilets, drinking water supply, tiling among others.
Teachers of adopted schools complained that the people who have adopted the schools – bureaucrats and MLAs – rarely visit and seem "disinterested".
Also Read | Private schools in a dilemma over board exams in Classes 5, 8
Better but many gaps
Ramesh Chandra Mishra, BJP MLA of Badlapur Assembly Constituency in Jaunpur district has adopted Pahitiyapur Upper Primary School. Satya Prakash Upadhyay, principal, said that the tiling of classrooms was initiated by him and is now complete.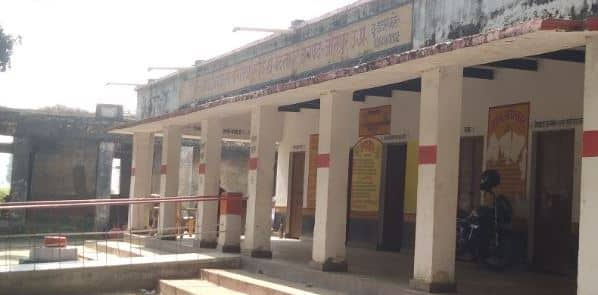 Pahitiyapur Upper Primary School (Image: Sanjay)"The school has 52 students and three teachers. The school still lacks the full boundary wall, taps for drinking water and a playground," Updhyay said.
Primary School Saray Rajai in Pratapgarh district has been adopted by District Institute of Education and Training (DIET) Pratapgarh principal Mohd. Ibrahim. The school has nearly 100 students and three teachers.
"Now, we have benches and desks for students after the school adoption. However, construction of boundary walls, tiling of classrooms and tap water facilities are yet to be ensured in the school. We have only three teachers and require two more teachers. We have apprised Mohd Ibrahmi about our problem," said a teacher posted at the school, requesting anonymity.
Also Read | UP has left its rural government schools unprepared for rise in enrolment
Officials do not visit
Saksham Kumar, six and in Class 1 at Model Composite School in Hathkila village, Amethi, has an immense interest in gymnastics. However, the absence of a playground and equipment are hindering his growth.
Saksham's school was adopted by an Amethi Nagar Panchayat executive officer in May 2022. The school is reasonably well-appointed – it has a boundary wall, enough space for its 214 pupils in Classes 1 to 8; eight teachers; benches and desks too.
"We have only one problem – we don't have a proper playground to hold physical activities. The school compound is not big enough and we also face problems while accommodating students during morning prayers," said Mukesh Verma, assistant teacher at Model Composite School Hathkila.
Model Composite School in Hathkila village, Amethi (Image: Sanjay)Rakesh Tiwari, principal, said the official who adopted the school has never visited.
"I don't remember his name. He never spoke to me and never visited our school. Now, he has been transferred and his post is vacant. I came to know that our school has been adopted through a WhatsApp group. The condition of the school is the same as it was earlier, there is no change here," he said.
Also Read | Kanpur: 101 primary schools closed mid-session causing chaos, confusion
Sultanpur District Magistrate Raveesh Gupta had adopted Primary School Abhiyakala in May 2022. The school has five teachers but only three rooms; in consequence, Classes 1, 2 and 3 sit together in one room and Classes 4 and 5 in another room. The third is for pre-primary kids.
"Our school was adopted by DM Gupta. But, it was cancelled soon. Now, he has adopted Primary School Amhat in Dubeypur block," said Yashashivta Rai, principal, Abhiyakala Primary School. Gupta did not respond to calls or texts.
Alka Maurya, whose daughter is studying in Class 5 is deeply unhappy with the school and has to send her daughter to a coaching class.
"They are teaching three classes in one room. How will they provide quality education ? The school doesn't have a boundary wall and stray cattle often enter the premises. The only functional toilet is used by teachers and students are forced to go to the field," she said. Rai did not respond to the allegations.
Also Read | UP Budget 2023 focuses on job creation, education, infra development of schools
One stands out
Among the six schools that Careers360 visited, Devipatan Primary School IInd in Amethi city is the only school to have seen significant change since adoption. Here, the adopter, BJP's Amethi district panchayat president Rajesh Kumar, had personal interest – he's an alumnus.
The school was in bad condition but now has a two-story building and is equipped with all facilities needed, said a teacher; the school has 10.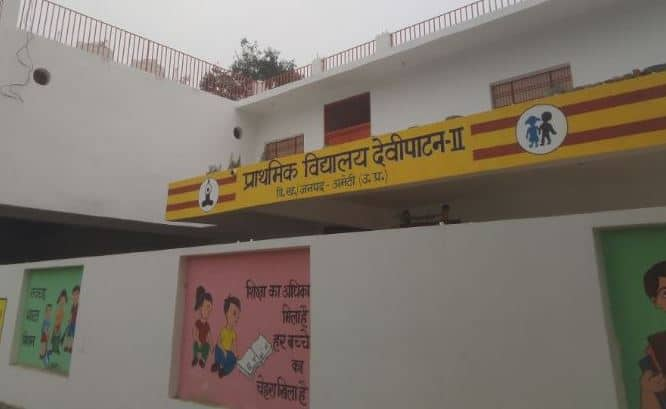 Devipatan Primary School IInd in Amethi city (Image: Sanjay)
"Earlier there were 119 students, now we have 146. We did not have a place to sit and teach students. The building of the school was damaged and we had to face water leakage during rainfall. Now, we have a smart classroom where we hold classes using digital devices. We are happy that Rajesh adopted this school and provided dignity to us. He regularly visits the school and speaks with students too," said Anita Devi, an assistant teacher.
The dilapidated buildings were demolished and the school built anew at a cost of Rs 1.25 crore. The new building was inaugurated by union minister and Amethi MP, Smriti Irani on November 6, 2022.
Monitoring needed
According to education ministry data, around 33.4% of the funds allocated under Samagra Shiksha Abhiyan (SSA) for improving the quality of education and infrastructure in UP government schools between 2019-20 and 2022-23 — totalling Rs 9,103 crore — were left unused.
In the budget 2022-23, the UP government allocated Rs 84,952 crore to the education sector, including basic, secondary, and higher education.
"There should be proper monitoring of adopted schools to evaluate the outcome. Otherwise, it would be just another scheme on paper and without any positive impacts. The government schools have witnessed an increase in enrollment of students and it is the responsibility of the government to provide quality education to them," said Sunil Kumar, research co-ordinator, Annual Status of Education Report (ASER) Center, Uttar Pradesh.
Also Read | UP government turns down opposition's suggestion for panel to examine improvements in state-run schools
On January 23, 2023, the Uttar Pradesh government appointed 25 nodal officers to check the implementation of several educational schemes including Operation Kayakalp. Each nodal officer has been assigned three districts and they will report to the director general, school education, UP.
---
Follow us for the latest education news on colleges and universities, admission, courses, exams, schools, research, NEP and education policies and more..
To get in touch, write to us at news@careers360.com.