Law Internships: LLB students bemoan low salaries, lack of regulations
Law Internships: LLB students bemoan low salaries, lack of regulations
A PIL on rules for law interns was thrown out but students feel it is time for a serious conversation about unpaid internships and exploitation.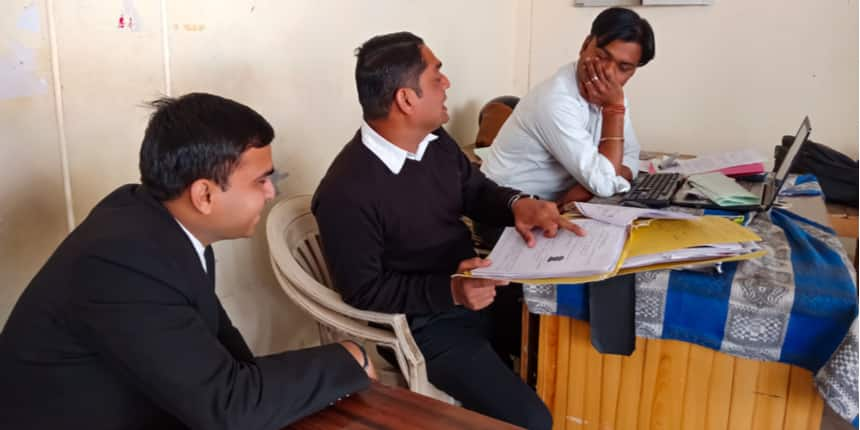 NEW DELHI: In November 2021, a public interest litigation (PIL) was filed in the Madhya Pradesh High Court seeking directions to the Bar Council of India (BCI) to frame laws on internship for law students. It was promptly dismissed.
The court held that the plea, filed by a law student, is "miserably misled" and that a law student cannot be a "liability" to BCI or any other establishment. But a conversation about internships and stipends is long overdue, argued students.
Also Read| Legal Jobs: Law graduates say there's need to sync industry, LLB courses to improve pay
Internships, critical for a leg-up in a profession and often compulsory to completing a degree, is also where students are at their most vulnerable. Law students spoke to Careers360 about working very long hours without pay; bearing harassment and exploitation unchallenged for fear of harming their careers; and letting opportunities pass because an unpaid internship just adds to a family's burden.
Most law firms don't pay stipends for students who are not from the National Law Universities (NLUs). Even among NLUs, most top law firms discriminate between top NLUs and the rest when it comes to stipends.
Low, varying stipends
The most sought-out law firms in India discriminate between students from top NLUs and other institutions.
"Some of the tier-1 law firms, which are essentially seven law firms, have a fixed stipend Rs. 5,000 to Rs. 7,500 per month depending on their performance. However, some of these firms make a distinction between stipends for NLUs and non-NLUs and within the NLUs they make a distinction between the top NLUs and the rest," said a final-year law student of a prominent law school in India on the condition of anonymity.
Also Read| IIT Delhi, NLU studying impact of technology, AI on judicial processes
"People from non-NLUs don't get paid any stipend. People from the top NLUs that are NLSIU, NLUD, NALSAR, NUJS get paid Rs. 10,000. This varies again by a range of Rs. 1,000 to 2,000 among the lower-ranked NLUs," said the student.
The first NLUs they named are National Law School of India Bengaluru; NLU Delhi; NALSAR Hyderabad; and West Bengal National University of Juridical Sciences, Kolkata.
"There's no equality. It's all about the tag. If you have a tag you will get paid regardless of the work you do," the student added.
Students said that many of them were not aware that they won't be paid any stipends and said that the situation is much worse in other internships.
"This is just for corporate law. Very few people in India get the chance to intern at these law firms anyway. It's already very exclusive…. In my third year, when I interned at one of these firms I did not know that non-NLU students would not get stipends," said another student from a highly-regarded law school who also requested anonymity.
Online internships
Other law firms chose not to give stipends to students who were doing their internship online due to the COVID-19 pandemic.
"Students don't talk about it much. For me, I was interning at a firm and they stopped giving stipends although they were making students do a lot of work. They only gave a certificate. They had changed the stipend policy a few months before I joined," said a student.
"Some firms say their stipends system existed before everything went online. Now that it is online. They are not keen to pay. For some people they transfer the money, for others that they deem not that good, they'll say we can't transfer the money or that we're putting you on hold and they will just keep delaying and the stipend will never come," another student said.
Also Read| Post Pulwama, Kashmiri students are finding it harder to get lawyers
Students said that the stipend situation is even worse in litigation.
"If you talk about litigation, it is very specific to the person you are working with. There are some good seniors. They will pay you a stipend if you are an intern. But that only constitutes one percent. The rest do not even cover your transport cost. They just expect you to come and work for 10-12 hours and everything should be at your expense," said a student.
"There is no uniformity in the litigation chamber. Some lawyers don't give anything, some give some form of stipend out of humanitarian concerns, others give a lot.," said another student.
Harassment and exploitation
Students said that a lack of internship rules has meant that students have had to face exploitation and even sexual harassment but remained quiet for fear of risking their careers.
"A lot of times these lawyers in litigation take a personal liking to someone. Then, they send them suggestive messages and use their power to exploit students…Some people have started complaining about this on LinkedIn and other platforms but otherwise they just try to shut it off. People come from other cities, and have no family or social support in say, Delhi. Lawyers try to exploit these situations," said a student.
Law students said interns have had to put up with excessive working hours and have no agency to complain to.
"With me, a few times, I was made to work till 2 or 3 am. That is a little too much. Many times interns are also given clerical work that the associates will not like to do so it is a burdening task. It's like free labour that they get at any or every time. Interns do it because they get their certificates which help their job prospects in future," said another student.
"You don't hear about this much because internships are only a miniscule part of a law students' career. Moreover, they don't care enough. Students just need the certificate to put it on their CV which will give them some returns down the line," they added.
Loss of opportunities
Students pointed out that unpaid internships are especially harsh on students without the necessary social support.
"What a lot of law students don't understand is that if I am from a small town, for example from Sikkim, and if I get an internship with Kapil Sibal for which I have to spend a month in Delhi, I may not have the support necessary for accepting it. I would be dissuaded from taking that internship," said a final-year student. "It would involve a lot of costs and I wouldn't want to impose that on my parents. There is no actual conversation [about this] happening in law schools."
Also Read| Kerala's free CLAT prep initiative helps Adivasi students reach NUALS, Kochi
Some students said that there should be some regulatory framework with regard to working hours and leave.
"I agree that these rules are missing in the legal field. There should be some regulations. This should be discussed, I believe. At present, it is very hazy. Many times there has been exploitation of interns," said a student. "There should be some kind of flexibility in allowing the student to take leave when required and fixed maximum working hours."
Implementing rules
However, students felt that implementing standard rules for internships would be difficult.
"The internships students do across law schools are very diverse. In litigation chambers, the working hours are very varied. Somedays, it can be till late at night, other days it can be till 5 p.m. In law firms, working hours are more and can stretch up to 13 to 14 hours also. I don't think fixing a particular working hour across institutions like law firms, litigation, think tanks, etc. will help," said a student.
Then, smaller chambers may not be able to pay students at all. Students also felt that having standard rules will just dissuade lawyers from taking in interns.
"I don't think uniform rules are possible. It is a very individualistic process. Each senior lawyer or each litigation lawyer, if they are mandated to pay a specific amount like say, Rs 3,000, they will just not take interns. They feel that interns are not contributing anything," said a student.
"Most lawyers see it as a hassle. They would not entertain any topic on stipends. They will see efforts at standardization as an attack and would prefer not to take in interns," said another student. "They see it as a favour to the law schools or their alma mater since internships are compulsory in a lot of law schools."
'Rite of passage'
Although students felt that there should be at least some guidelines for internships, they felt that the "romanticisation" of the profession would prevent anyone from doing so.
"I feel that there should be guidelines. The only problem is to convince so many people. I think BCI can do it if they want. But then there is this romanticisation of the profession and all these archaic notions. In litigation, they think that if they start paying money then it will become like corporate law and they don't pay to maintain that sanctity where you're just learning and it's a 'purer' process and essentially you are not going into corporate slavery," said the student.
"They say this is the rite of passage. You get to learn from lawyers and that should be enough. You should not ask for money," said another student.
Low salaries
Students also said that the attitudes to work and pay also translate into low starting salaries for law graduates once they are fully employed.
"Senior lawyers don't pay enough. They pay around Rs. 20,000 and new employees find it difficult to manage with that in a place like Delhi. This starts from internship and carries over to the job because they feel that you are gaining so much from us so you should not ask for more," said the student.
"I feel BCI has to talk to a lot of law students and see the problems they face," said a student. "There should at least be a conversation about this before we go to framing guidelines and standardization."
If you want to share your experience at work, write to us at theworkplace@careers360.com. To know more about The Workplace itself, here's a handy note: Let's talk work…
---
Follow us for the latest education news on colleges and universities, admission, courses, exams, schools, research, NEP and education policies and more..
To get in touch, write to us at news@careers360.com.