'Business Blasters': Meet Delhi's school-going entrepreneurs
'Business Blasters': Meet Delhi's school-going entrepreneurs
Delhi Government's Business Blasters programme has seen some high-schoolers strike out as small business owners, selling hand-knits, artwork, and even tech innovations.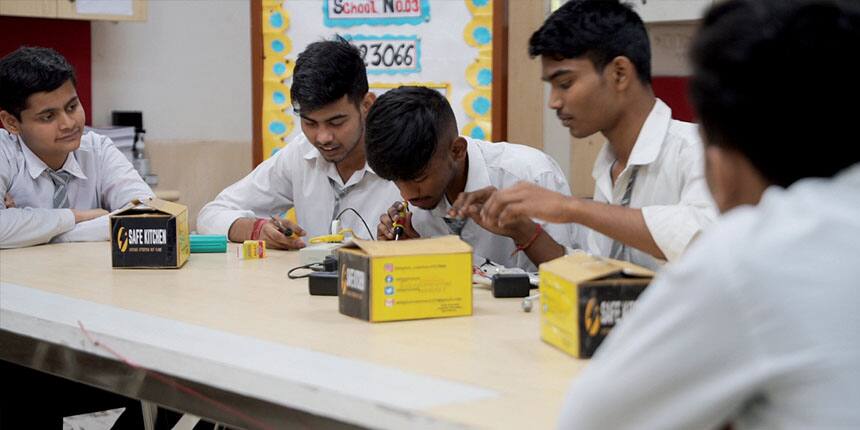 NEW DELHI: Like any other middle-class student, Divyanshi Chitransh had only hoped to land a nine-to-five job in the future. But a business opportunity came knocking while she is still in school.
4 min read
Mar 05, 2022
A Class 12 student of Delhi Government's School of Excellence (SoE), Khichripur, Chitransh spends her days executing marketing strategies for her made-to-order painting business and nights completing her school syllabus. This hectic schedule, she said, has helped her be more productive and developed her personality.
"This business was not something I thought I would pursue but it combines our passion for painting with a lucrative career. I have learnt so much while building my start-up," she said.
Chitransh and her business partner Minni, who does not use her last name, launched their start-up—Divine Creations—under Delhi Government's initiative, the 'Business Blaster' programme. The programme is the practical component of the entrepreneurship mindset curriculum that aims to develop young entrepreneurs at the school level. The curriculum was launched in 2019 for Classes 11 and 12. Over three lakh students of Delhi Government schools formed over 51,000 teams and received seed money totalling Rs 60 crore.
In the first phase, 1,000 teams were selected at school, zonal and district levels. These teams receive regular guidance and mentorship from experts and industrialists.
Also Read| Manish Sisodia: 'Trying to build confidence in students to compete in job market'
Last month, these teams presented their ideas at centres established at 28 city government schools and before a panel comprising industrialists, education department officials and members from the universities of Delhi. The panel will review these ideas, assess them on set parameters and select 100 teams that will pitch for a bigger investment in a business expo scheduled in March.
Divine Creations
In February 2021, after Covid rules were relaxed, the AAP-led government implemented a pilot version of their 'seed money project' at the SoE, Khichripur. A total of 21 groups presented their start-up ideas; nine were selected, including Divine Creations. Each group received a seed funding of Rs. 1,000 per student from the state government.
With a small seed money of Rs. 2,000, Chitransh managed to earn a profit of Rs. 38,000 within a few months despite lockdown and Covid restrictions. "Due to limited resources, we decided to make small 8x10 paintings. We found that people are usually more interested in buying smaller paintings. We did most of our business through social media. We received several orders despite the lockdown," said Chitransh. The team developed their business strategy with the help of a business mentor from Delhi Technological University.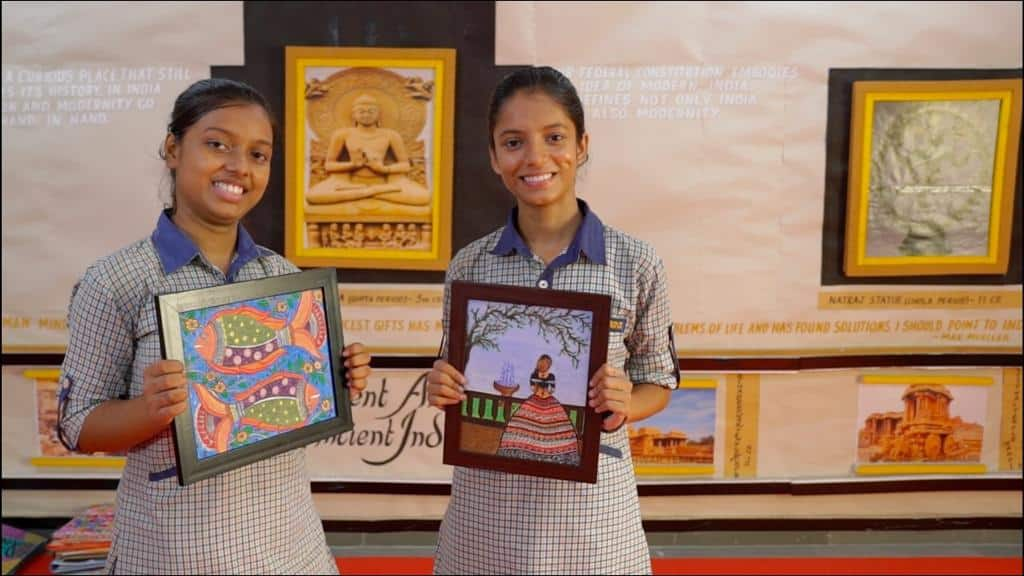 Minni (left) and Divyanshi Chitransh (right) showing their handmade paintings
In September, the project was launched across all government schools in Delhi and the seed money was increased to Rs. 2,000 per student. A few shortlisted start-ups with promising ideas presented their ideas to the investors in November which was also aired on YouTube and Television. "We got the opportunity to pitch our start-up idea in front of founders of Hero and Urban Company. Hero's founder gave us Rs. 50,000 grant and Urban Company gave us an order of 50 paintings worth Rs. 75,000," said Chitransh, adding, "This was the most exciting point for us because this meant huge scale-up."
Also Read| Admission without exam to 400 seats in DTU, NSUT, others for Delhi Government students
With a big order in hand, the team decided to employ talented housewives living in their immediate locality. "There are so many women who want a career but are restricted to their homes. They have talent and required minimum training to replicate the designs we wanted," said Chitransh. Currently, more than 20 women from states like Bihar, West Bengal, and Andhra Pradesh work for them remotely.
Through her project, the team wants to provide a platform to women artists who have talent but no access to the market. "So many women in Bihar make beautiful Madhubani paintings but they don't have market access. Usually, they end up migrating to metro cities and are forced to take daily wage work. The art is lost. We want to bring their paintings to a marketplace where it is valued," explained Chitransh.
The team has recently received an order from another start-up in Delhi University's Hindu College. "If I had a job, I would be able to help just my friends and family. If this start-up becomes successful, I will be able to help so many more," said Chitransh.
Also Read| How did the JNVs, Eklavya Schools handle education during COVID-19?
Safe Kitchen
A team of nine students of Government Boys Senior Secondary School, No. 3, Sector 5, Ambedkar Nagar has invented a low-cost alarm system that will prevent gas leakages and explosions. "We have been reading about cylinder blasts in the newspapers. It has happened in our own locality a few times. I wanted to find an affordable solution to this problem," said Aman Kumar, the team leader.
The team has designed an alarm that goes off within 20 seconds of a gas leak. "It is actually a preventable disaster. The only catch is the time in which a gas leakage is detected. We have designed it so that it detects the leakage within seconds," he explained.
With a selling price of Rs 700, each device has been developed with an integrated circuit, a sensor and a buzzer that alerts the user. The current device has an attached adaptor which has to be plugged in for the device to work. The product, however, is being improved to run on batteries.
"We received a lot of feedback from our customer that there is no facility to plug the device near cylinders. Therefore, my team and I have developed another advanced model that runs on batteries," said Kumar. The team is also developing a phone application that sends alerts on phone in case of gas leakage.
Also Read| UGC releases draft guidelines on credit system, entrepreneurship, skill-based learning
Kumar learnt many aspects of running a business from his father, a mason. His father taught him the management of resources, how to sell the product, and where to find the best parts which made it easier for the team to build the device. After several failed attempts the team was able to design an affordable device with seed money of Rs. 18,000. Kumar and team members, who also come from similar backgrounds, were provided a separate strategy room at school which was turned into a tinkering lab. "We did not have our own laptops or smartphones. We used our parent's smartphones to join the online classes. However, this never stopped us from working on our goal. We all met in school to develop the product and sold most of our devices through door-to-door sales," said Kumar proudly.
Talking about the journey of developing tech, Aman said: "We are humanities students, we don't learn about technology at all. My friends and I did extensive research on YouTube and in the library. We read about this device in CSIR's [Council of Scientific and Industrial Research] Vigyan Pragati 2012 edition that helped us design the product."
To be able to reach the most vulnerable—lower middle-class households—the team has been working towards reducing the selling price. "Similar products are available in the market but they cost between R.s 1,200 to Rs. 8,000. These incidents usually occur in slum areas and low-income residences. We want to reduce the price further and increase the device's efficiency," he said.
The team has received several orders since November through social media and received a grant of Rs. 80,000 from investors. The investment is being used to improve the device and marketing strategies.
"I was planning to write ITI [Industrial Training Institute] exam and get a government job so that I can financially help my family. Now, I am more confident because even if I don't land a government job, I am capable of running a business. I have additional skills that I can use to build a successful career," said Kumar.
Rainbow Home Industries
A hobby picked up in the summer vacations became a profitable business for Yogita Kanojiya who leads a team of three students that forms "Rainbow Home Industries". Depending on the season, the team makes hand-knitted wearables and decorative items. "During the lockdown, my mother taught me how to knit table-mats, door-mats and other decorative items. When the government launched the Business Blaster programme, I was more than excited to start a business around this hobby," said Kanojiya.
During winters, the team sold several knitted ponchos, bedspreads, mufflers, sweaters. With Rs. 8,000 as a seed fund, the students managed to earn a revenue of Rs. 15,000 and have pending orders worth Rs. 5,400. "We started with word-of-mouth marketing and showed our products to the neighbours. People loved them and even asked for customised items. Suddenly we got more orders from referrals and relatives of customers. Most orders were placed online on social media," said Kanojiya.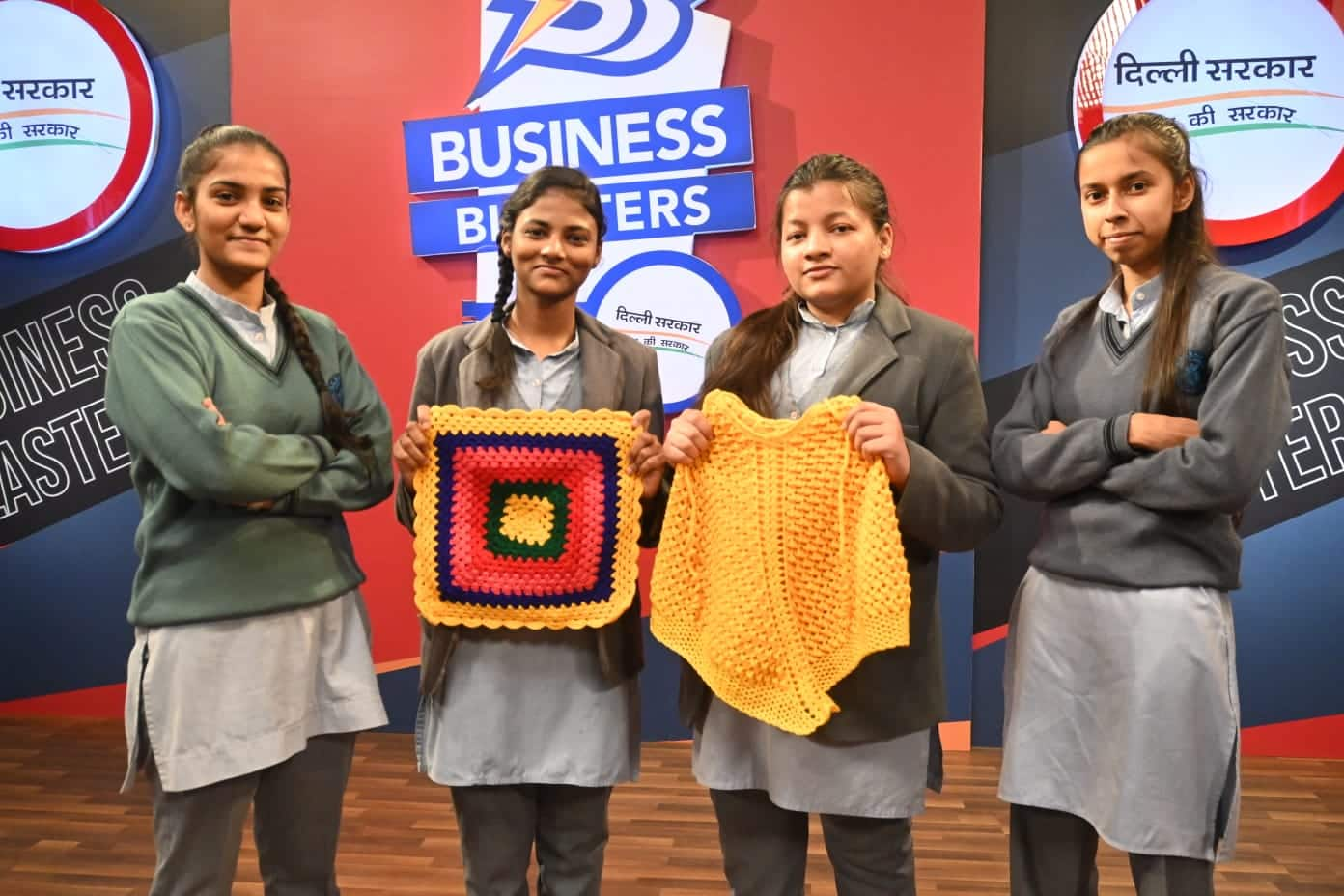 Yogita Kanojiya (extreme left) with her business blaster start-up team members
With rising popularity, more orders poured in. "For 15 days, I knitted all the orders by myself. We had no idea that so many people will want to order our products. We had to expand our team further," recalled Yogita. The team started hiring skilled local housewives, who now work on a 30 percent commission basis with the team to complete the orders.
The girls not only managed to secure an investment of Rs. 25,000 but also advanced orders of 35 bedsheets from high-end investors. These investors have also offered support to the students to help them connect to non-profit organisations that can get them more hands to work with and sales opportunities.
Though her business idea is built around a hobby, for Kanojiya, the main aim was to give credit to her mother's and other women's unpaid work.
"I started this business thinking about my mother who has been knitting for so long but never got anything out of it," said Kanojiya. "I want to build a business where not only I earn profit but also the people who work for us."
If you want to share your experience at work, write to us at theworkplace@careers360.com. To know more about The Workplace itself, here's a handy note: Let's talk work…
---
Follow us for the latest education news on colleges and universities, admission, courses, exams, schools, research, NEP and education policies and more..
To get in touch, write to us at news@careers360.com.