COVID-19: Nehru Planetarium director N Rathnasree no more
COVID-19: Nehru Planetarium director N Rathnasree no more
N Rathnasree had been Delhi's Nehru Planetarium director for over 20 years. She was also part of the Astronomical Society of India's outreach activities.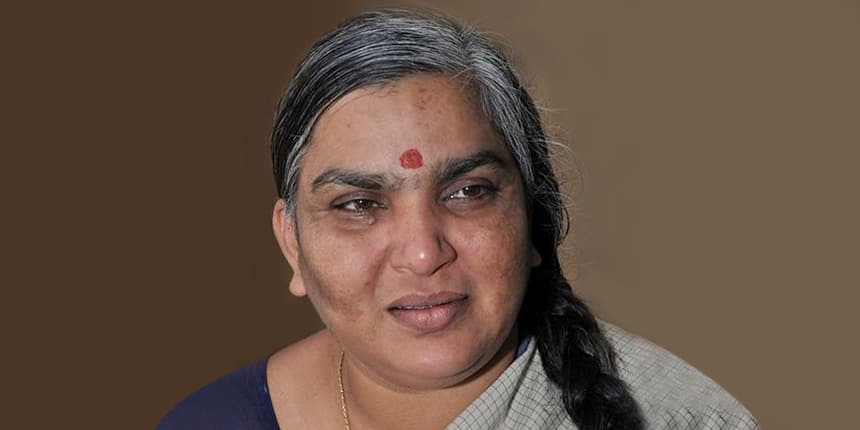 COVID-19 has claimed the lives of hundreds of educators across the country. In a new series, Careers360 tells the stories of some of them and the communities they left behind.
NEW DELHI: N Rathnasree's final months as director of Delhi's Nehru Planetarium till retirement in November were promising to be busy ones.
She had to find ways to preserve programmes she had developed, for all purposes single-handedly, over her 20-year tenure; she had plans to compile her experiences of observing astronomical events into a manual; an interview on her research into Mohandas Karamchand Gandhi's interest in astronomy was in the pipeline; she had found a reference to a 19th century Lucknow woman who had studied astronomy and was keen to learn more.
All that was cut short on Sunday. On May 9, Rathnasree died of COVID-19 at a Delhi hospital after a week in ICU. She is survived by her husband, Patrick Das Gupta, a professor in Delhi University's department of physics and astrophysics, son, daughter-in-law, and granddaughter. Set to retire from the Nehru Planetarium at the Teen Murti complex in November 2021, the 57-year-old had also been the first chairperson of the Astronomical Society of India's public outreach and education committee (ASI-POEC).
Rathnasree had joined the planetarium as senior planetarium educator in 1996 after a PhD in astrophysics from Tata Institute of Fundamental Research (TIFR) under the guidance of Alak K. Ray, and two post-doctoral fellowships – with Joanna Rankin at the University of Vermont, US (1992-1994) and at Raman Research Institute in Bengaluru (1994-1996). She became the planetarium director in 1999.
"It is remarkable that she was given a leadership role at a relatively young age, although it is less surprising that she handled it with such astounding competence," said her friend and astrophysicist, Prajval Shastri. Rathnasree worked a lot on the physics of pulsars.
Astronomy education
Listing over a dozen programmes on her CV, she wrote that the "writing of the script and integration of audio visuals [were] all undertaken in-house" at the planetarium. "Here, 'in-house' basically means herself," said Shastri. "She conceived, created and executed it all with her high-level of expertise with the technology, and was at the forefront in the country in this."
Rathnasree mastered the specialised technology that enables the planetarium shows, selected the themes and framed the stories that would become the shows. There were programmes on her field of expertise, pulsars, as well as on her passions – celestial clocks and the Jantar Mantar and the Kumbh mela's connection with astronomy. For a 2015 conference, she had written a paper on the astronomical references in the works of the 4th-5th century Indian poet Kalidasa.
In the brief note about herself she wrote: "My work consists of astronomy education and outreach for the most part, and some archaeoastronomy research. I am particularly interested in interdisciplinary celebrations of astronomy."
Jantar Mantar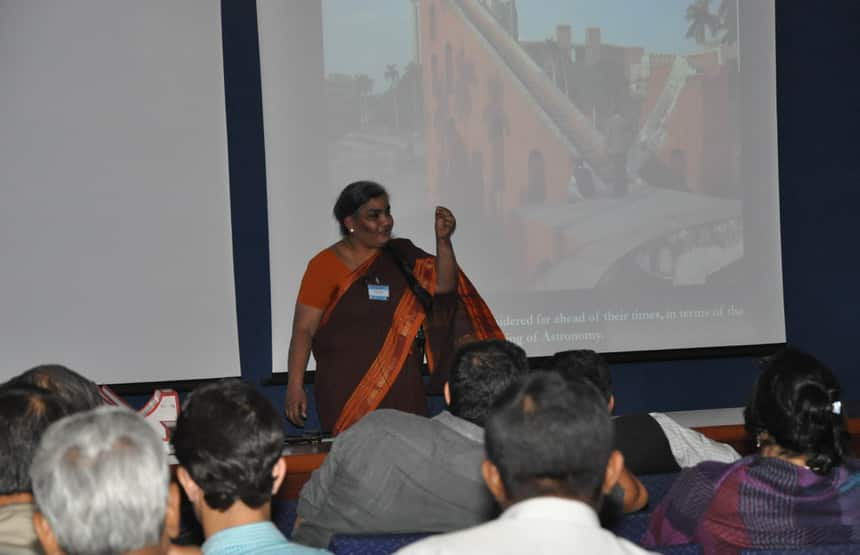 Dr N Rathnasree speaking about Jantar Mantar (Source: Prajval Shastri)
The Astronomical Society of India's obituary for her notes her contributions toward preserving the Jantar Mantar observatories and making "the astronomy behind these gigantic instruments accessible to the common public".
The ASI says: "What started as a simple positional astronomy project with a group of students evolved into cleaning and restoration of some of the Jantar mantar Instruments, posters, leaflets and student activity sheets to explain the working of these instruments and programmes to train tour guides at Delhi as well as Jaipur." In recognition of her expertise, the Archeological Survey of India appointed her on the committee overseeing restoration of Jantar Mantar in Delhi.
More recently, Rathnasree had researched Gandhi's interest in astronomy.
"She was an extraordinarily creative person," said Shastri. "Usually a planetarium has other resources. It might have a museum; it can organise a sky watch on its grounds; it holds weekend programmes for kids – she did all of those and much more. She was the fulcrum of astronomy education and science communication." She advised the National Council of Educational Research and Training (NCERT) and the Central Board of Secondary Education (CBSE) on writing science text and activity books for children.
"She interacted with young minds in a very warm, friendly and non-judgemental way," said Shastri. "She influenced and mentored a huge number of young people." In her PhD dissertation, one University of Arizona research scholar acknowledged Rathansree for being "instrumental in igniting [her] love for planets".
Preserving a legacy
Shastri was pursuading Rathnasree to use her last few months at the planetarium to convert the programmes into a format that could be streamed online. "She told me she didn't know what would happen to the programmes once she retired. The content she created is a treasure trove and needs to be preserved," said Shastri.
The planetarium was closed for months in 2020 after the Centre enforced a nationwide lockdown to control the spread of the coronavirus. Over 2020 and even in 2021, Rathnasree organised dozens of online activities, discussions, lectures and interviews that were conducted on social media and video-sharing sites like YouTube. In collaboration with the Astronomical Society of India, she organised a series of online lectures and discussions with astronomers, titled "Astro Adda". In June, over a two-part series she explained the annular solar eclipse of June 21, 2020.
The Nehru Planetarium reopened in November but its online outreach continued. In December, it initiated the "Samanta Chandrashekhar Challenge" online and in six languages, encouraging youths to measure the angle between Jupiter and Saturn in the lead-up to the great conjunction when the two planets are closest to each other. All the amateur astronomers needed was a few pieces of cardboard and a tube.
Read more:
Write to us at news@careers360.com.
More From Shreya Roy Chowdhury