The Week in Education: JEE Main 2021 dates, board exams, reopening schools
The Week in Education: JEE Main 2021 dates, board exams, reopening schools
Indian Institute of Technology, Madras, shut all departments and labs after over 100 students tested positive for COVID-19.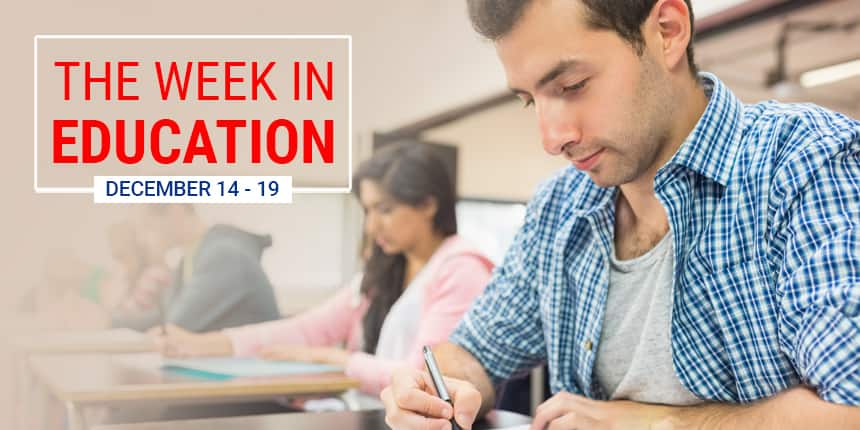 NEW DELHI: Union Education Minister Ramesh Pokhriyal 'Nishank' had announced the dates of the JEE Main 2021 exam this week, after assuring students in his previous webinar that his ministry is mulling options for holding JEE Main exams four times next year.
This week also saw some states announcing they will open educational institutions from the first week of January 2021. Meanwhile, Kerala Chief Minister Pinarayi Vijayan announced the dates of Class 10, 12 board examinations.
These were the important developments in education in the past week.
Education Minister Ramesh Pokhriyal, this week, announced the dates of the engineering entrance exam for admission to IITs, NITs and other engineering institutions - Joint Entrance Examination (JEE) Main 2021. The first session of JEE Main 2021 will be held from February 23 to 26 followed by the next three sessions in March, April and May 2021.
Several changes have been introduced. First, the JEE Main 2021 exam will be conducted in 13 languages. English, Hindi, Assamese, Bengali, Gujarati, Kannada, Marathi, Malayalam, Odia, Punjabi, Tamil, Telugu, and Urdu are the languages candidates can pick as their choice while applying online. There will be options in the question paper and no negative marking on those.
Reopening of schools, colleges
The Jharkhand government this week gave its nod for reopening schools outside containment zones for Classes 10 and 12 from December 21, besides restarting classes in medical and dental colleges, and nursing institutes. However, Class 10 and 12 students will need the permission of their parents to attend schools and online classes will also continue alongside.
Puducherry Agriculture and Education Minister R Kamalakannan has announced that all the schools will be re-opened on January 4, 2021. Initially, the schools will have half-a-day classes from 10 AM to 1 PM and full-day classes from January 18, the minister added.
The Allahabad High Court expressed its concern over the opening of schools in Uttar Pradesh amid the pandemic, fearing that young children may catch the infection. The court has asked the state government to consistently keep an eye over all schools and ensure that all teachers and students follow anti-Covid guidelines.
Kerala has become the first state to announce the board examination dates of Class 10 and 12, Secondary School Leaving Certificate and Higher Secondary Certificate exams, to be conducted from March 17 to 30, 2021. Kerala chief minister, Pinarayi Vijayan said the SSLC and HSC exams will be conducted by taking all the necessary measures for COVID-19 to ensure the safety of the students. Special arrangements will be made at the school level to give students proper counselling and arrange sample tests.
IITs and reservation
A committee established by the Centre to suggest ways to implement reservation in the IITs has instead recommended that the IITs be exempt from following the reservation policy in faculty recruitment.
The Indian Institute of Technology (IIT) Madras had to be shut down this week as it was hit by the coronavirus outbreak with over 100 people, a majority of them students, testing positive. As per a health official, 104 samples out of the 444 samples taken at IIT-Madras tested positive for COVID-19. Following this all departments and labs have been shut as around 700 students, mostly research scholars were accommodated in nine hostels.
The Indian Institute of Technology (IIT) Kanpur this week launched three new master's level programs in cybersecurity in addition to a dedicated centre for cybersecurity. The department of computer science and engineering (CSE) would offer the three courses, M.Tech, MS by Research, and BT-MT dual degree in cybersecurity from August 2021.
During a meeting between Indian Education Minister Ramesh Pokhriyal and UK Foreign Secretary Dominic Raab this week, both the countries have resolved to strengthen their educational collaboration. The two nations have decided to set up a joint task force on mutual recognition of academic qualifications over the next year. The task force will consist of higher education organisations from both countries to work towards "mutual recognition of academic qualifications".
Also read:
Write to us at news@careers360.com