The Week In Education: UGC guidelines, CBSE syllabus change, visa row
The Week In Education: UGC guidelines, CBSE syllabus change, visa row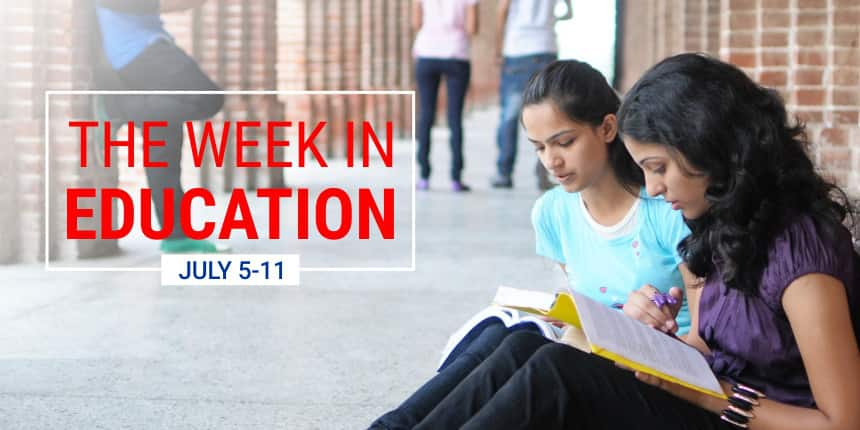 NEW DELHI: The week saw some major policy decisions from central and state governments, impacting both school and higher education, and several of them generated much debate.
The Central Board of Secondary Education (CBSE) revised the curriculum of Classes 9 to 12, for 2020-21 to reduce the load on students as schooling during the COVID-19 outbreak has become a challenge. It invited both questions and controversy for the topics it chose to cull from the exam syllabus.
In another major announcement, the University Grants Commission's much-awaited revised guidelines on university examinations finally arrived on Monday, disappointing thousands of students who had been resisting exams during the pandemic. This decision, too, proved controversial with not just students but multiple states writing to the UGC, ministry of human resource development (MHRD) and even prime minister Narendra Modi, in protest.
Apart from these, several state boards declared results; cases were heard on fees in the courts, a new academic calendar was issued for technical and management colleges and the US government cast international students in its universities into a state of extreme uncertainty .
These were the biggest developments in education this week:
The CBSE reduced its exams syllabus for Classes 9 to 12 by 30% for the 2020-21 academic session citing loss of classroom teaching due to COVID-19. Removed from social science curriculum were topics such as federalism, citizenship, secularism, nationalism and local government. This caused controversy, prompting both CBSE and the HRD minister, Ramesh Pokhriyal 'Nishank' to explain the choice of topics culled. CBSE explained that the National Council for Educational Research and Training, or NCERT's "alternative calendar" for students already covers these topics. Pokhriyal argued that certain topics were being talked about to "portray a false narrative".
In any case, following CBSE's cue, several state boards announced they were reducing the school syllabus as well. So far, Haryana, Gujarat, Goa, Uttar Pradesh and Rajasthan boards have announced they will reduce the syllabus to help students cope with studies amid the coronavirus outbreak.
The state boards of Jharkhand, Rajasthan and Meghalaya announced board exam results for certain classes or subjects. The Council for the Indian School Certificate Examinations also announced Class 10 ICSE and Class 12 ISC results on Friday, in which around two lakh students participated.
The Rajasthan Board of Secondary Education (RBSE) declared the RBSE class 12 science results. This year 2.39 lakh students appeared for the science exam. Girls With a pass percentage of 94.90%, girls outperformed boys of whom 90.61% qualified.
Jharkhand Academic Council declared the JAC class 10 result for around 3.8 lakh students. The overall pass percentage was 75.01% this year. The Meghalaya Board of School of Education also declared the Class 12 MBOSE HSSLC result 2020 on July 9 for science, commerce and vocational streams.
In the Class 10 ICSE exam, 99.34% was the pass percentage and in the Class 12 ISC exams, 96.84% passed.
This week also saw Goa announcing the result of GCET (Goa Common Entrance Test), an offline entrance examination for admissions to professional courses in engineering and pharmacy in the state.
The UGC's revised guidelines on exams advise universities to hold examinations for final-year students by the end of September. The decision was taken amidst pressure from students, teachers and parents to cancel the examinations due to the increasing number of COVID-19-positive cases.
Earlier, in April it issued exam-related guidelines suggesting exams in July. The revised guidelines appear to make final-year or semester exams compulsory.
Just hours before the UGC guidelines were issued, the Ministry of Home Affairs permitted universities and colleges to hold examinations. The MHA asked the examinations to be conducted "compulsorily" as per the Standard Operating Procedure (SOP) approved by the Union Ministry of Health and Family Welfare. Also the same day, MHRD wrote to all states instructing them to hold exams and enclosed a set of SOPs for organising exams.
The UGC has revisited its earlier guidelines related to university examinations.
In view of the safety, career progression and placements of the students and their larger interests, after consulting @HMOIndia and @MoHFW_INDIA, it has been decided that pic.twitter.com/evKTYPwnIa

— Dr. Ramesh Pokhriyal Nishank (@DrRPNishank) July 6, 2020
By the time UGC's revised guidelines were issued, as many as seven major states – Punjab, Maharashtra, Haryana, Rajasthan, Kerala, West Bengal and Madhya Pradesh had decided to cancel the final-year exams due to COVID-19.
The ministers or education departments of Maharashtra, Odisha, Punjab and West Bengal already have or said they will write to the Centre opposing the new guidelines.
Other states have issued fresh guidelines or reversed older decisions. Gujarat reversed its July 1 decision to cancel exams and told state-run universities to hold them by September. And Karnataka announced it would hold exams for final-year students as well.
UGC has recently issued guidelines regarding the conduct of examinations keeping COVID19 in mind. The Higher Education Department has taken a decision on the same after taking into consideration these guidelines while keeping in mind the long term interests of our students.

1/4

— Dr. Ashwathnarayan C. N. (@drashwathcn) July 10, 2020
Individual universities have had to replan and reschedule as well. The University of Delhi postponed its much-hyped online open-book examinations by a month, to August.
Rajasthan University canceled the date-sheet for final exams and is awaiting instructions from the state government before issuing a fresh one.
Dr A.P.J. Abdul Kalam Technical University which had earlier sent a proposal to the Uttar Pradesh government to promote final year students without exams is now planning to hold exams in September.
The UGC guidelines also had a bearing on technical education prompting the All India Council for Technical Education (AICTE) to issue a revised academic calendar. As per the revised calendar, classes for the new batch of PGDM courses will begin from August 10, while those for other technical courses, including BTech, have been pushed to October 15.
The council has asked all its approved institutions to follow the revised UGC guidelines on examination.
The United States Federal Immigration Authority announced this week that foreign students pursuing degrees in American universities that will be taught entirely online next semester due to COVID-19, must leave the country.
The decision invited massive backlash, not just from students, but the universities themselves. Harvard University and Massachusetts Institute of Technology have sued the Immigration and Customs Enforcement, or ICE, for barring international students from staying in the United States.
Indian students form one of the biggest segments likely to be impacted by this as over two lakh Indian students are enrolled in different programmes in the US.
A group of 30 US Senators and 136 Congressmen, all from the opposition Democratic Party, has also urged the President Donald Trump-led administration to reverse its order.
The Karnataka High Court has stayed the Karnataka Government's order banning online for school children stating that banning it encroaches upon the Fundamental Right to Life and Education. Earlier, Karnataka Government had banned online classes from pre-primary to Class 10.
In another decision, the Delhi High Court directed the Delhi University to file an affidavit detailing the schedule of final year undergraduate exams which have been postponed from July 10 to August. The high court also asked the DU administration to explain in the affidavit as to how it proposes to conduct exams- online, off-line or in blended mode.
The Delhi High Court this week also asked the National Law University, Delhi (NLUD) to correct its revised admission notification of June 30 under which it had done away with the reservation for other backward classes (OBC) and economically weaker sections (EWS).
Also read:
Write to us at news@careers360.com