The Week In Education: NEP 2020 and education reform project
The Week In Education: NEP 2020 and education reform project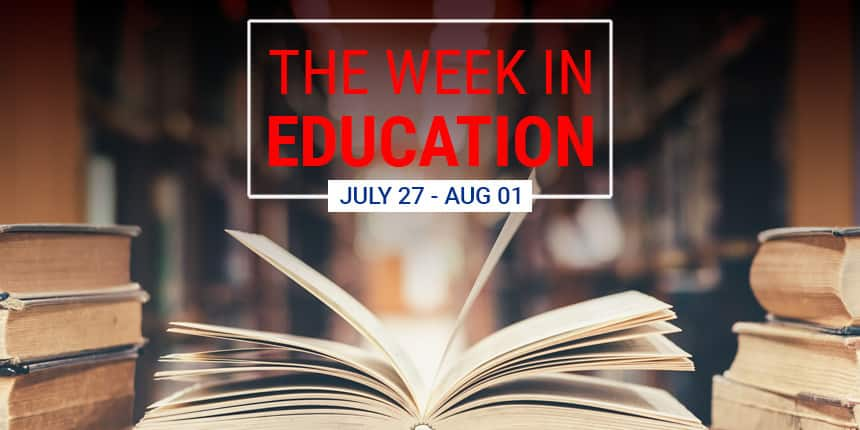 NEW DELHI: The last week of July saw the development that has been in the making for close to five years -- the draft National Education Policy 2020 was cleared by the Union Cabinet on July 29. Along with it, the ministry of human resource development's rechristening into "ministry of education" was also approved.
A roadmap that promises radical changes to higher and lower education, the NEP 2020 proposes new regulatory bodies and broad restructuring of both. Most of this week's wrap of developments in education covers its prescriptions.
Though less momentous, there were other announcements as well. The ministry of home affairs Unlock 3 guidelines said schools and colleges are to remain shut for another month. Still more state boards announced Class 10 and Class 12 exam results. Several groups of students moved various courts, including the Supreme Court, against exams, in particular the ones for final-year university students made compulsory by the University Grants Commission.
Given below are the most important decisions on education from the past week.
Thirty-four years after the existing National Policy on Education was introduced, the Narendra Modi-led government has come up with a new education policy. The first committee for it was constituted in 2015 but the first official draft would be made public for comment only in May 2019.
Framing of NEP 2020 will be remembered as a shining example of participative governance. I thank all those who have worked hard in the formulation of the NEP 2020.

May education brighten our nation and lead it to prosperity.

— Narendra Modi (@narendramodi) July 29, 2020
These are the highlights from the version cleared by the Cabinet on Wednesday.
Universalising school education: The policy proposes to universalise early childhood care and education (pre-primary for age three to six) and secondary education for Classes 9 to 12 in the next 15 years, or by 2030. It proposes to do so without amending the Right to Education Act 2009 which makes primary education compulsory and a state responsibility.

Curriculum and structural changes: The NEP 2020 proposes to replace the existing 10+2 structure of school education with a 5+3+3+4 structure. The total number of years a child spends in school will remain the same but the new structure makes playschools part of the formal education with a new curriculum.

Assessments and exams: As per the new policy, all students will take school examinations in Classes 3, 5, and 8 and board exams in Classes 10 and 12. Board exams will test only "core capacities" and are likely to get 'easier'. Overseeing and setting standards for school education boards will be the Performance Assessment, Review, and Analysis of Knowledge for Holistic Development, or PARAKH, a National Assessment Centre. This implies central influence over the operations of state boards.

Instruction in the mother-tongue: The new policy talks of home language, mother tongue or regional language as a medium of instruction for up to Class 5 and also proposes reduction of the school curriculum to core concepts; with vocational education from Class 6.

Curriculum Framework: A new National Curriculum Framework for School Education, NCFSE 2020-21, will be devised which will be updated once every five-10 years.
The proposed NEP 2020 proposes massive reforms for every part of higher education. For starters, it sets itself the very ambitious target of achieving a 50% gross enrollment ratio -- the percentage of college-age students actually enrolled -- by 2035. At present, it is 26.3%
Here are the main changes proposed for higher education.
Three categories: The NEP proposes phasing out of the affiliation system of colleges. All institutions will be fitted into one of three categories -- research universities, teaching universities, and degree-granting autonomous colleges.

4-year degrees and multiple exits: Undergraduate programmes can stretch to four years but students will be allowed to "exit" early with a lower qualification such as a certificate or diploma. Their return later will be facilitated by an Academic Bank of Credit. The NEP suggests doing away with the MPhil degree, opting for undergraduate research in the fourth year.

#NEP2020
🟠Our UG degree will have multiple exit options.🟠
We will be establishing an Academic Bank of Credit that would digitally store academic credits earned from various recognized HEIs, so that the degrees from an HEI can be awarded taking credits earned into account. pic.twitter.com/blzCnFHdab

— Dr. Ramesh Pokhriyal Nishank (@DrRPNishank) July 29, 2020

Multidisciplinary institutions: The NEP 2020 plans for one large multidisciplinary Higher Education Institution (HEI) in every district, by 2030. It also aims to double the higher education Gross Enrolment Ratio (GER) in higher education by 2025. Existing institutions, including the Indian Institutes of Technology, or IITs, will strive for multidisciplinary education.

Single regulator: The proposed policy talks about creating a 'light but tight' regulatory system by a single regulator for higher education, the Higher Education Commission of India with its various responsibilities separated into "verticals". It also suggests the establishment of a National Research Foundation to facilitate funding research.

Foreign education: The policy also paves the way for the entry of foreign education institutions to set up their campuses in India. The top 100 foreign institutions will be allowed to set-up campuses, and the government will also create Special Education Zones. Amit Khare, Higher Education Secretary speaking during the launch of NEP said, "Foreign universities will be given special dispensation regarding regulatory, governance, and content norms on par with other autonomous institutions of India."

Technology body: The NEP also emphasises on the use of technology in education. It proposes a new, National Educational Technology Forum (NETF), forum for "free exchange of ideas". Technology will be employed in learning, assessment, planning and administration.
The ministry of home affairs released a fresh set of guidelines, Unlock-3, on managing the coronavirus pandemic. As per the MHA guidelines, all the educational institutions are to remain shut till August 31.
"After extensive consultation with states and UTs, it has been decided that schools, colleges and coaching institutions will remain closed till August 31, 2020," reads MHA guidelines.
Prior to that some states had also announced extension of lockdown till August 31. West Bengal chief minister, Mamata Banerjee, announced that the lockdown in the containment zones of the state would continue till August 31.
Supreme Court, High Courts on MCI, UGC Guidelines
The Supreme Court of India accepted a petition filed by a group of 31 students challenging the UGC guidelines asking universities to conduct final year examinations by the end of September. On July 31, the Supreme Court scheduled the next hearing for August 10.
In another petition filed by National Eligibility Cum Entrance Test, or NEET aspirants from Gulf countries, the Supreme Court has issued a notice to the Medical Council of India (MCI), over-allocation of examination centres in Qatar and other Gulf countries, due to restrictions on international travel.
The SC rejected a plea challenging the conduct of Common Law Admission Test (CLAT) 2020 in online mode today. CLAT was originally scheduled to be conducted in offline mode, but due to ongoing COVID-19 lockdown, the Consortium of National Law Universities switched from offline to online mode.
In another development, the Madras High Court directed the Central Government to constitute a committee to make a decision on the issue of whether to provide OBC reservation in All India Quota (AIQ) seats in medical admissions.
The week also saw some of the state boards announcing their Class 10 and 12 results. Maharashtra State Board of Secondary and Higher Secondary Education announced SSC Results 2020. This year's pass percentage is 95.30%, an increase of 18.2 percentage points over the previous year's result. Board of Secondary Education, Odisha, also declared the Class 10 results this week for over 5.60 lakh students. The overall passing percentage for BSE Odisha Class 10 result was 78.76%.
Board of Secondary Education, Rajasthan (BSER) also announced RBSE 10th results this week for more than 11.79 lakh students. This year the overall pass percentage for Rajasthan 10th result 2020 was 80.63%.
Uttarakhand Board of School Education (UBSE) declared the UK Board Result 2020 for Class 10 and 12 students. A total of 1.47 lakh students took the Class 10 exam, and over 1.19 lakh, the Class 12 one. Similarly, the Goa Board of Secondary and Higher Secondary Education (GBSHSE) also announced the SSC results for 2020 this week. Tripura Board also declared the Class 12 results for science, commerce and arts.
Write to us at news@careers360.com