The Week In Education: CBSE results, UGC guidelines and JEE Advanced
The Week In Education: CBSE results, UGC guidelines and JEE Advanced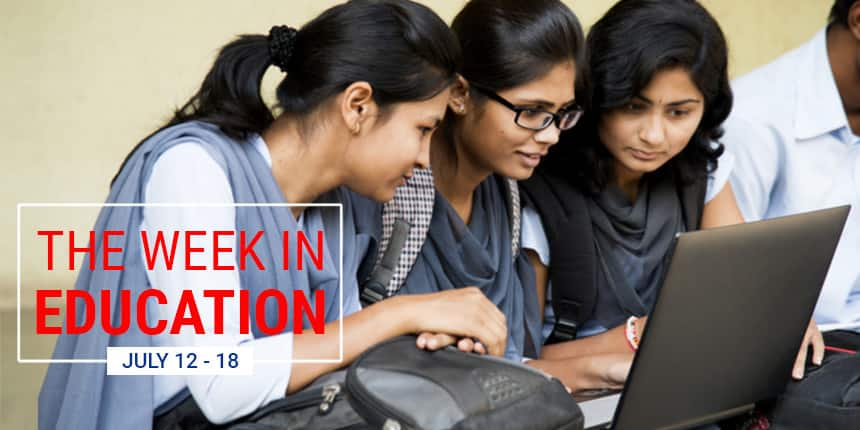 By R. Radhika and Abhay Anand
NEW DELHI: The week was all about exams and results and drew mixed reactions from the students community. A number of school examination boards, including the Central Board of Secondary Education (CBSE) declared results, finally closing the chapter on school-leaving exams this year. The result declarations brought relief to lakhs of students whose plans were thrown into chaos by the coronavirus outbreak.
Girls dominated the rank tally in CBSE Class 10 results, with Lucknow girl Divyanshi Jain scoring 600/600. The pass percentage also went up significantly this year across boards for Classes 10 and 12.
But with another group of students and parents, the fight over exams is still on. The fight against Delhi University's plans of holding online open-book exams for end-semester students came up again in the Delhi High Court but only yielded a new exam schedule and disappointment for students.
Another set of parents and students are planning to challenge the UGC's revised guidelines mandating such final exams for all universities. While some states have appealed to the Centre and UGC to reconsider their stand, several have announced they will comply.
Class 10 and 12 CBSE result 2020
The Central Board of Secondary Education declared the result for Class 12 on Monday followed by Class 10 result 2020 on Wednesday.
This year's CBSE result saw a significant hike in the number of students scoring over 95 percent in Class 12 exam. As many as 38,686 students scored more than 95 percent as against last year's 17,693.
In both Class 12 and Class 10 results, girls outperformed the boys in CBSE exams.While the board did not issue an official merit list, many schools announced their respective CBSE toppers.
With the CBSE results, several interesting success stories emerged. A national-level shooter who battled dyslexia, identical twin sisters who scored perfectly identical marks and two sisters who overcame the horrors of Delhi riots and the hurdle of COVID-19 lockdown to achieve excellent marks.
In Uttar Pradesh, a farmer's son, Anurag Tiwari, with 98.2 percent has bagged a full scholarship program in US's Ivy League University.
State board exams
Along with CBSE, many state education boards have declared the results for certain classes.
The Maharashtra board declared the result of Class 12 where 12,81,712 students cleared the examination. The pass percentage of Class 12 students in Maharashtra stood at 91 percent.
As many as 7,20,209 passed the Tamil Nadu state board examination. The overall pass percentage of TN 12th result 2020 was 92.34 percent.
Karnataka declared the result of 2nd PUC exams for which more 6.5 lakh students appeared amid the pandemic. As many as 20,958 students achieved a perfect score of 100 marks in all subjects.
Directorate of Higher Secondary Education, Kerala declared the Class 12 result this week. This year the overall pass percentage for Kerala Class 12 exam stood at 83.12 percent. A total of 31,9782 students have cleared the exam.
Among the eastern states, West Bengal, Manipur, Meghalaya and Jharkhand have also declared the result for Class 12 students.
Delhi education board
As promised in this year's budget, the Delhi Government has begun the process to set up a separate education board for Delhi. The establishment of this board will result in the de-linking of at least the government schools from CBSE.
Two new committees Delhi Education Board Committee and Delhi Curriculum Reform Committee will be instrumental in establishing the new board and suggest guidelines for the curriculum reforms.
While the AAP government announced the members of the committee, the representation from Delhi Government schools is still unclear.
'PRAGYATA' Guidelines on Digital Education
The HRD minister officially released the guidelines on online education for school children, 'PRAGYATA'. The document recommends capping screen time for children. As per the guidelines, online classes for pre-primary students should not be for more than 30 minutes. PRAGYATA also suggests two online sessions of up to 30-45 minutes each for Classes 1 to 8 and four sessions of the same duration for Classes 9 to 12.
Introducing 'PRAGYATA': Guidelines on #DigitalEducation for school heads, teachers, parents, and students containing recommended screen time for children, tips on coping with mental/physical stress during #DigitalLearning & more. Stay tuned for more details.#PRAGYATA pic.twitter.com/o1BkkhID7j

— Dr. Ramesh Pokhriyal Nishank (@DrRPNishank) July 14, 2020
With the University Grants Commission (UGC) and the Ministry of Human Resource Development (MHRD) firm on their stand of conducting final-year exams, students and parents have decided to file a public interest litigation, or PIL, in the Supreme Court. The PIL is being filed to challenge UGC exam-related guidelines on the conduct of examinations, issued on July 6. UGC issued revised guidelines after getting go-ahead from the Ministry of Home Affairs, instructing universities to compulsorily hold examinations of final year students by September end.
On Saturday UGC said that it has received feedback from 755 universities on holding exams. 560 universities have either conducted exams or are planning to. However, six states, including Maharashtra, Punjab, West Bengal, Odisha, Delhi and Tamil Nadu, have opposed the revised UGC guidelines.
கல்லூரிகள், விடுதிகள் கொரோனா சிகிச்சை மையங்களாக மாற்றப்பட்டுள்ளதால் செமஸ்டர் தேர்வுகளை நடத்த முடியா சூழல் உள்ளது.

செமஸ்டர் தேர்வுகள் குறித்து முடிவெடுக்க மாநில அரசுக்கு அதிகாரம் வழங்க வேண்டுமென வலியுறுத்தி மாண்புமிகு மத்திய அமைச்சர் @DrRPNishank அவர்களுக்கு கடிதம் எழுதியுள்ளேன். pic.twitter.com/95WfaxzUjz

— Edappadi K Palaniswami (@CMOTamilNadu) July 11, 2020
DU to hold online OBE exam in August
The University of Delhi (DU) has announced the fresh date sheet for the final-year online Open Book Examination (OBE), for final-year undergraduate (UG) and postgraduate (PG) students. As per the latest schedule, exams will be held from August 10 to August 31. Students unable to appear in the exams in August will get another chance.
Earlier, this week the university in its affidavit submitted to the Delhi High Court said that it will conduct the examination from August 17 and conclude by September 8. The Delhi High Court suggested advancing the dates.
DTU cancels exam, IIT-KGP to announce result
With Delhi joining the states that cancelled final-year exams in their universities, Delhi Technological University (DTU) announced the cancellation of its end-semester exams scheduled from July 18. The DTU had planned online exams, a decision much reviled by students.
The Indian Institute of Technology Kharagpur, or IIT Kharagpur, this week declared the end semester results. The results were based on the grades obtained in the mid-semester examinations, assignments, class tests and viva. The institute cancelled the end-semester examinations because of the COVID-19 pandemic and formed a committee to evaluate the academic performance of the students.
Uttar Pradesh, Telangana to conduct final year exams
While some states have opposed the UGC's revised guidelines, others have decided to conduct exams. This week Uttar Pradesh and Telangana announced final year exams. Telangana announced that to uphold the academic sanctity, it would hold final year exams as suggested by the University Grants Commission (UGC) and the All India Council for Technical Education (AICTE).
The Uttar Pradesh government has also decided to cancel exams of all intermediate semesters in state universities, except those of final year and last semester in the wake of a spike in coronavirus cases in the state.
UP deputy chief minister Dinesh Sharma informed that that students of other classes will be promoted on the basis of internal assessment. Undergraduate results will be declared by October 15 and postgraduate ones by October 31.
In a major relief to engineering aspirants, the Joint Admission Board of the Indian Institutes of Technology has decided to relax the eligibility criteria for JEE Advanced 2020. As per the revised criteria applicants are no longer required to score a minimum of 75% in Class 12 board examinations or rank in the top 20 percentile in their qualifying examinations.
Union Human Resource Development Minister Ramesh Pokhriyal 'Nishank' announced on twitter: "Due to the partial cancellation of class XII exams by several Boards, Joint Admission Board (JAB) has decided to relax the eligibility criterion for #JEE (Advanced) 2020 qualified candidates this time."
The HRD minister mentioned that candidates who have passed the Class 12 examination will be eligible to take admission and the marks obtained will not matter to them.
Also read:
Write to us at news@careers360.com
More From Team Careers360