The Week In Education: Reopening schools, board exams, budget
The Week In Education: Reopening schools, board exams, budget
This week, the UGC released its draft regulations for the academic bank of credit, proposed by the NEP 2020.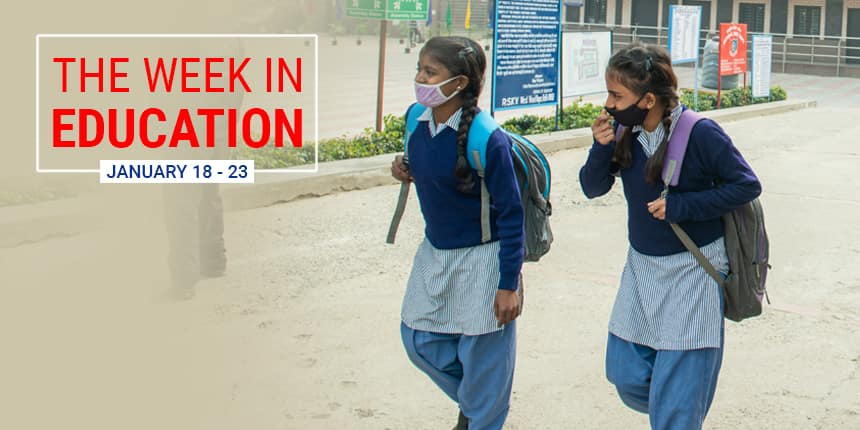 NEW DELHI: More states partially reopened schools and colleges over the week or have announced when they will do so. Some states have opened for the primary levels as well. The education minister, Ramesh Pokhriyal 'Nishank', during a live interaction with Kendriya Vidyalaya students, addressed questions on the syllabus and eligibility criteria for CBSE board exams 2021 and major national-level entrance examinations, including JEE Main and NEET 2020. .
While the Central Board of Secondary Education (CBSE) is yet to release the final datesheet for the Class 10 and Class 12 exams, more states, including the mammoth Uttar Pradesh Madhyamik Shiksha Parishad, or UP Board, have issued dates for board or practical exams for Class 10 and Class 12. The University Grants Commission has released and invited comments on the draft regulations on the 'academic bank of credit' -- a key proposal in the National Education Policy (NEP) 2020.
These were the most important developments in education this week.
Delhi, Tamil Nadu, Rajasthan schools reopen
The Delhi government this week allowed all schools outside COVID-19 containment zones to reopen for Classes 10 and 12 from January 18 in view of board exams. However, it made clear that physical attendance is not compulsory.
While in Rajasthan, schools and coaching institutes reopened with face masks, social distancing and thermal scanning mandatory for students. The government has decided to restart schools from Classes 9 to 12 with each room having 50 percent seating capacity. For students of coaching institutes coming from other states, they will have to get themselves tested for COVID-19, a day before joining classes.
The Tamil Nadu government had directed its officials to compulsorily screen students and faculty for Coronavirus within a week after it decided to commence classes for Class 10 and 12.
School reopened in Mizoram as well for students set to appear for the board exams.
Haryana, Punjab announce reopening dates
Haryana's education minister Kanwar Pal announced that schools in Haryana will reopen for Classes 6 to 8 from the first week of February.
The Punjab School Education Department on Wednesday announced it will restart primary classes at all schools from January 27. Earlier this month, the state government had reopened schools for Classes 5 to 12. The timings will remain the same from 10 am to 3 pm and parents will have to give written consent before sending their wards to schools.
Schools in Jammu division's summer zone will open from February 1 and those in the rural parts of Thane district, Maharashtra, will open from January 27 for Classes 5 and above.
West Bengal to reopen schools at an appropriate time: Education Minister
West Bengal Education Minister Partha Chatterjee k said that the schools in the state will reopen only when students and teachers are not at any risk of contracting COVID-19. He said the decision to reopen school will be taken at the appropriate time.
CBSE Board exams 2021 to ask questions from revised syllabus
The education minister, Ramesh Pokhriyal' Nishank', during a live interaction with Kendriya Vidyalaya students this week, said that in the CBSE board 2021 exam, questions will be asked only from the reduced syllabus. The CBSE had reduced syllabus by 30 percent considering the COVID-19 induced lockdown.
Meanwhile, the ministry of AYUSH had also reduced NEET 2020 cutoff percentile for admission to undergraduate Ayurveda, Yoga, Siddha, Unani and Homeopathy (AYUSH) courses.
75% eligibility waived for JEE Main 2021
Candidates appearing for JEE Main 2021 for admission into National Institutes of Technology (NITs), Indian Institutes of Information Technology (IIITs), School of Planning and Architecture (SPA) and other centrally-funded institutions do not have to score a minimum 75% to be eligible. The relaxation in JEE Main eligibility criteria was introduced as a response to the COVID-19 pandemic last year but is being continued for 2021 as well.
Considering the decision taken for IIT JEE(Advanced) and in line with the decision taken for the last academic year, it has been decided to waive off the 75% marks (in class 12 exam) eligibility criteria under Joint Entrance Examination (Main) for the next academic year 2021-2022

— Dr. Ramesh Pokhriyal Nishank (@DrRPNishank) January 19, 2021
Following which the National Testing Agency (NTA) released the JEE Main 2021 syllabus at jeemain.nta.nic.in.
UP board practical exam dates
Uttar Pradesh Madhyamik Shiksha Parishad (UPMSP) this week announced the Classes 10 and 12 practical exam time table for the 2021 session. Class 12 intermediate practical exams will be held from February 3 to 22 in two stages. Like last year, Class 10 practical marks will be submitted by respective schools based on internal evaluation or project work.
Maharashtra board exam dates
Maharashtra school education minister Varsha Gaikwad this week announced that the written exams for Class 12 of the state board will be held from April 23 to May 29, and for Class 10 from April 29 to May 31. The exams are usually held in February and March, which have to be rescheduled due to the COVID-19 pandemic.
The minister also said that the practical exams for Class 12 will be held between April 1 and 22, and for Class 10 between April 9 and 28.
Written exams of Secondary School Certificate (SSC) Class X will be held from April 29, 2021, to May 31, 2021. Results are expected to be announced in the last week of August 2021. All exams would be conducted in compliance with the COVID-19 norms.#sscexam2021 #sscexams pic.twitter.com/BAUZYKnje8

— Varsha Gaikwad (@VarshaEGaikwad) January 21, 2021
Bihar School Education Board (BSEB) will conduct the Bihar board matric exams from February 17 and 24, 2021. Class 10 exams will fall between February 17 and 24, 2021.
Odisha: Reduction in tuition fee in all aided, unaided private schools
The Odisha government has announced a reduction of tuition fees in all aided and unaided private schools for the 2020-2021 academic session in wake of the COVID-19 pandemic. It has specified the extent of reduction for various fee slabs.
NEP 2020: Implementation plan for schools, CBSE
The education ministry this week said that a plan created by its department of school education and literacy to implement the National Education Policy, 2020, is being finalised.
The ministry's statement also said that the CBSE is planning exam reforms which include holding English and Sanskrit exams at two levels.
The University Grants Commission (UGC) issued draft regulations for setting up and using the "academic bank of credit" -- a key feature of the NEP 2020 that is intended to ease the mobility of students across streams and institutions in higher education. Responses have to be sent by February 5.
COVID-19 positive candidates can't appear for AIBE XV
The Bar Council of India (BCI) announced that the candidates who are infected with COVID-19 or have any symptoms of COVID-19 will not be allowed to report at the examination centre of All India Bar Examination (AIBE). The council will conduct AIBE XV (15) on January 24, 2021, in offline mode.
Special Stories:
Write to us at news@careers360.com.