The Week In Education: JEE Main 2021 registration, NEET PG date
The Week In Education: JEE Main 2021 registration, NEET PG date
More schools reopen, education minister reviews implementation of NEP 2020, the UGC seeks universities' help to spread COVID vaccine awareness.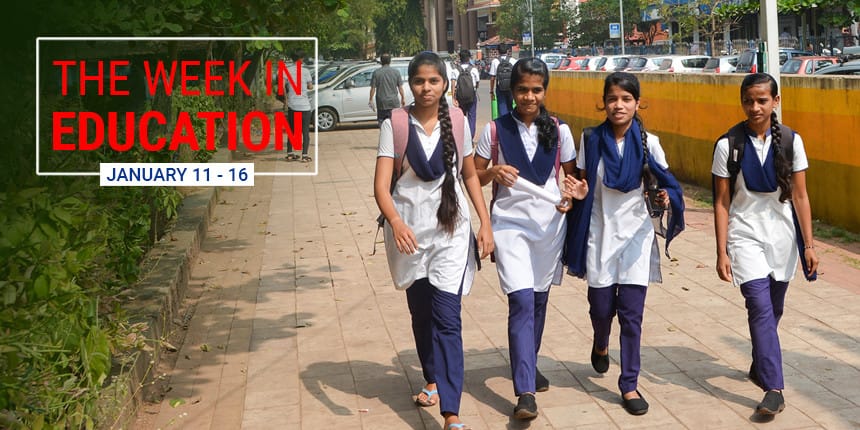 NEW DELHI: There have been more announcements on major national-level entrance exams. The registration deadline for the Joint Entrance Examination for engineering, JEE Main 2021, has been extended till January 23 and the date for the entrance exam for postgraduate medicine, NEET PG 2021, has been announced. Then, with cases COVID-19 dropping and two vaccines getting approval for roll-out, schools and colleges have started to reopen in many parts of the country from the first week of 2021. Education institutions have remained closed for nearly 10 months since the lockdown was announced in March 2020 to control the spread of the coronavirus. States are framing COVID-19 protocols of their own to allow institutions to reopen safely. However, in many places, attendance is still voluntary and low.
Some state examination boards have also issued guidelines related to Classes 10 and 12 board examinations. At the Centre, the education minister Ramesh Pokhriyal 'Nishank' recommended setting up a task-force and two committees to oversee the implementation of the new National Education Policy (NEP) 2020. The Centre is also enlisting the help of universities to spread the word on COVID vaccine roll-out.
These were the most important developments in education of the week.
The Union education minister, Ramesh Pokhriyal 'Nishank', reviewed the progress in implementation of the NEP 2020 and suggested setting up a task force and two committees to facilitate. A decision was also taken to set up a dashboard that will track progress on 181 tasks that have been identified for the complete implementation of NEP 2020's prescriptions for higher education.
Education minister Pokhriyal also suggested that the task force coordinate between the higher education and school education departments of the education ministry.
The National Testing Agency (NTA) extended the last date for registering for the Joint Entrance Examination Main for BTech and BArch admissions to January 23. The late date to pay the registration fee for JEE Main 2021 is January 24. The application forms can be corrected from January 27 to 30, 2021.
The National Board of Examinations (NBE) on January 14 announced that the National Eligibility cum Entrance Test for Postgraduate - NEET PG 2021 - will be held on April 18. The board also said that the candidates who will complete their internship on or before June 30, 2021, can appear for NEET PG entrance exam. Through NBE NEET PG 2021, as many as 24,219 Doctor of Medicine (MD), 12,663 Master of Surgery (MS) and 922 PG Diploma admission will be granted in 6,430 colleges across India.
A day before the deadline for the JEE Main 2021 application process, the NTA warned candidates about fake websites through which online application and fee payments were being solicited. The official notice released by the NTA stated that "some unscrupulous elements have created a fake website with URL - jeeguide.co.in - in the name of JEE Mains 2021, through which online applications and fee payments were being made from interested candidates". The notice also clarified that the official website for receiving online application and examination fee from aspiring candidates for JEE (MAIN) – 2021 is - jeemain.nta.nic.in.
The UGC this week wrote to universities seeking their support in disseminating information about the COVID vaccines, Covishield and Covaxin. The health ministry had sought the UGC and universities' help.
In another circular issued this week, the UGC asked all the universities to establish an 'office for international affairs' to promote India as a global study destination as per the National Education Policy (NEP) 2020. The apex higher education regulator has also asked universities to keep it updated about the establishment of the office by February 15, 2021.
Delhi, Telangana, HP: Schools open from February 1
The Delhi Government announced that schools are reopening for Classes 10 and 12 from January 18. It also released detailed guidelines for reopening schools. The decision has drawn mixed reactions from parents and school administrations. The government issued new rules for practicals, pre-boards and has clarified that no COVID-19 symptomatic students will be allowed to enter the school premises or appear for the CBSE 2021 board exams.
दिल्ली में CBSE बोर्ड परीक्षाओं व प्रैक्टिकल के मद्देनज़र 10वीं और 12 वीं क्लास के लिए 18 जनवरी से प्रैक्टिकल, प्रोजेक्ट, काउंसिलिंग आदि के लिए स्कूल खोलने की अनुमति दी जा रही है. अभिभावकों की सहमति से ही बच्चों को बुलाया जा सकेगा. बच्चों को आने के लिए बाध्य नहीं किया जाएगा.

— Manish Sisodia (@msisodia) January 13, 2021
In Telangana, Classes 9 to 12 in private and government colleges will resume from February 1. In Himachal Pradesh schools in plain areas will reopen for Classes 5 and 8 to 12 on February 1 while those in hilly areas will commence from February 15.
Karnataka, Tamil Nadu, Mizoram reopen schools, colleges
Colleges in Karnataka started regular offline classes from January 15 for students of all undergraduate, postgraduate, engineering and diploma courses. Classes for first, second and third-year students will start from January 15.
Tamil Nadu Government decided to reopen schools for Classes 10 and 12 from January 19. The government has said that only 25 students will be allowed per classroom. Hostels have also been allowed to operate. Mizoram has decided to allow reopening of schools for classes 10 and 12 from January 22, and places of worship from February.
The Delhi High Court this week asked the Centre and Central Board of Secondary Education (CBSE) to treat as a representation a public interest litigation (PIL) petition seeking to dispense with physical exams for Class 10 and 12 CBSE 2021 exams. board examinations in view of the prevailing COVID-19 pandemic. The bench suggested that the petition be moved to the CBSE and Centre as a representation else, it will be dismissed.
Gujarat: GSEB Exam 2021 Date
In Gujarat, schools reopened this week for Classes 10 and 12, and colleges and universities for final-year undergraduate and postgraduate students. They had been shut for over nine months.
The Gujarat Secondary and Higher Secondary Education Board has decided to conduct the GSEB Class 12 practical examination for science stream from March 30.
The Brihanmumbai Municipal Corporation (BMC) has allowed state, national and international educational boards to conduct exams physically as per their schedule in Mumbai while following COVID-19 prevention guidelines. Last month, fearing a COVID-19 wave, the BMC had deferred the reopening of schools and colleges to January 15.
Odisha chief minister Naveen Patnaik has exempted fees for students appearing in board exams. As per the announcement, the state government will not charge any fee from students appearing in the matriculation examination (Class 10), scheduled to begin from May 3.
This week colleges and universities across Odisha reopened their classrooms to students of final-year undergraduate and postgraduate courses.
January 3, 2021
The Goa Board of Secondary and Higher Secondary Education has asked all affiliated schools to conduct examinations for Classes 9 and 11 by calling them to the educational institutions. In a circular, board's secretary, Geraldina L Mendes, has said that all the exams for Classes 9 and 11 shall be over by April 24, 2021, to allow schools provide infrastructure and manpower for the the board exams starting from April 26.
The Jawaharlal Nehru University (JNU) has announced it will allow entry of fourth-year PhD, MSc and MCA students in its fifth and sixth phases of reopening from Friday and February 1. PhD students (fourth year only) from all science schools, special centres, other centres (both day scholars and hostlers) who require access to laboratories are allowed to enter the campus from Friday, January 15. MSc and MCA students (fourth semester only) from all science schools and special centres (both day scholars and hostlers) are allowed to enter from February 1.
The Tamil Nadu government has decided to provide a free data card of 2 GB per day capacity to over 9.69 lakh college students to enable them to attend online classes till April this year.
Special Stories:
Know More About
Application Date

02 Mar, 2021 - 06 Mar, 2021
Download Exam Brochure