The Week In Education: Unlock 5, protests and exams
The Week In Education: Unlock 5, protests and exams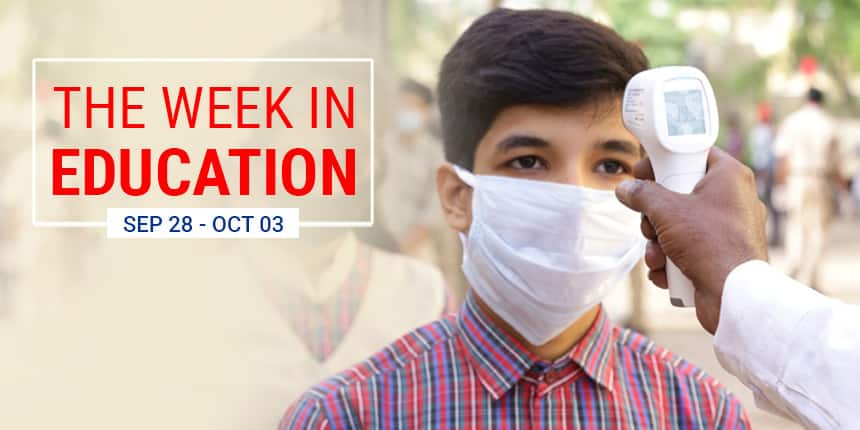 NEW DELHI: Though some states cautiously opened schools after September 21 for Classes 9-12, this week the Ministry of Home Affairs (MHA) issued 'Unlock 5' guidelines paving the way for re-opening of all educational institutions including schools and coaching centres after October 15. When they actually open, the states and Union Territories will decide.
In higher education, Unlock 5 allows reopening campuses only for science and technology research after October 15.
This week, the University Grants Commission (UGC) released a "guidance document" to combat plagiarism in research and keep scholars on the straight and narrow. The week also saw the Supreme Court junking another application filed by students demanding postponement of examination, this time it was the UPSC Civil Services prelims. Some of the states and universities have also started moving towards implementation of the new National Education Policy 2020. The education minister, Ramesh Pokhriyal 'Nishank' held a day-long q-and-a session on this on Twitter but said little that wasn't known already.
The month of September saw several national level examinations being held -- the Joint Entrance Examination (JEE) Main and Advanced for engineering, the National Eligibility cum Entrance Test (NEET) 2020, and ones for law (CLAT 2020) and admission to central universities (CUCET 2020).
These were the main developments in education in the past week.
Unlock 5: Reopening of Schools, Colleges
On the last day of September, the MHA issued Unlock 5 guidelines where it has left states and Union Territories to decide on the opening of schools post October 15 in a graded manner.
However, the MHA has stated that the decision shall be taken in consultation with the respective school or institution's management, based on their assessment of the situation. As per the guidelines, students can be permitted to attend schools or institutions only with the written consent of their parents.
The new guidelines have reiterated for encouraging online and distance learning classes for both schools and higher education institutions preferred mode of teaching.
Central universities can open for postgraduate students and research scholars in science and technology streams after October 15. State governments will decide on state and private universities.
New Exam for medicine
Leading medical colleges directly under the central government and designated as Institutions of National Importance (INIs) will now have a common entrance test for admission to postgraduate level courses, the 'INI Combined Entrance Test' (INI CET). The new test will replace the exams for AIIMS PG, JIPMER PG, PGIMER, and NIMHANS. INI CET will be held for the first time in January 2021 for admission to all PG courses, which include MD, MS, MDS, DM, and MCh.
UGC guidance document on Research
With increasing cases of plagiarism and articles getting published in predatory journals, the UGC this week released a guidance document for academic research practices.
The document also proposes the creation of an "Office of Research Integrity (ORI)" at every institution to ensure research integrity and ethical practices.
The UGC has also shared a list of documents for reference for further insights into good academic research practices and research integrity.
NEP: States plan implementation
The Goa government has decided to implement the New National Education Policy from next academic year. Goa Chief Minister Pramod Sawant made the announcement this week where he also stated that the state government will lift its ban on new recruitments from next January 2021.
The Nagaland Government has also decided to gradually implement the NEP in the state. The state has 1,987 government schools from primary to secondary level, while the teacher-student ratio is 1:6, which is much higher than the national ratio of 1:16.
DU constitutes NEP implementation committee
Following the fortnight long 'Shiksha Parv' announced by the Ministry of Education highlighting the key points of the NEP, universities have also started planning implementation of the new policy. The University of Delhi has constituted a committee for "smooth implementation" of the NEP. The NEP implementation committee (NIC) will have 30 members, including a chairperson.
DU: Online class boycott
Not paid salaries for months,teachers from some of the Delhi University colleges boycotted the online classes and official work in protest. They allege that Delhi Government has not released grants to 12 colleges it funds resulting in their teachers going unpaid since May.
The Delhi University Teachers' Association (DUTA) started a cluster-wise strike on Monday, under which teaching staff from some colleges like Gargi College, Atma Ram Sanatan Dharma College and some others boycotted official duties. The cluster strike went on till October 1.
Special Stories:
Write to us at news@careers360.com.
More From Team Careers360