The Week In Education: NEET, JEE Main in Sept, NCERT issues guidelines
The Week In Education: NEET, JEE Main in Sept, NCERT issues guidelines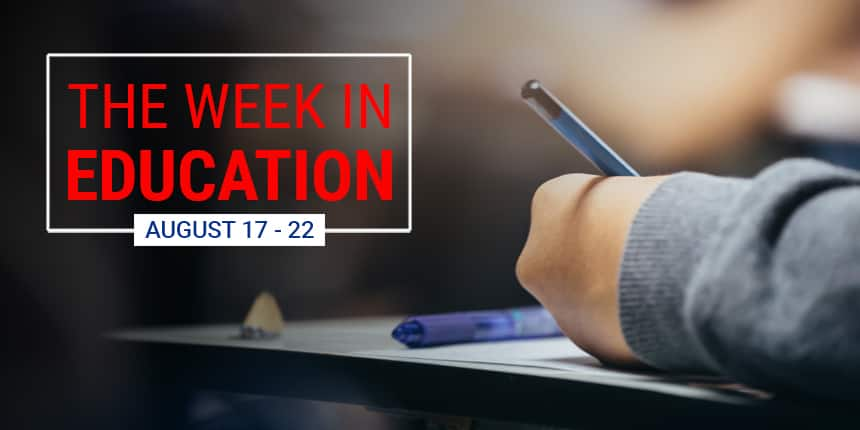 NEW DELHI: As in previous weeks, much of the discussion on education revolved around the court cases.
Many students hoping for postponement were left in despair as the Supreme Court allowed the National Eligibility cum Entrance Test (NEET) 2020 and Joint Entrance Examination (JEE) Main 2020 to be held as per schedule. The Delhi High Court, meanwhile, asked Delhi University to conduct physical examinations and declare results of final year exams "expeditiously".
The National Council of Educational Research and Training (NCERT) released the guidelines for teaching students without digital devices. The same guidelines reproduced a survey that found that nearly 27% of students of the affluent central schools do not have smartphones or laptops to attend online classes.
Meanwhile, states are pondering on reopening schools. Assam is planning to reopen from September while states like Tamil Nadu and Madhya Pradesh said that a decision is yet to be taken.
In its weekly wrap of education news, Careers360 covers the most important announcements, decisions and general developments most relevant to educational institutions, teachers and students. Listed below are the biggest decisions and developments from the past week.
NEET 2020 and JEE Main
The Supreme Court today, on Monday, dismissed the petition seeking postponement of NEET 2020 and JEE Main. The exams will now be conducted as per schedule in September.
Two days after the Supreme Court allowed the National Testing Agency to conduct JEE Main and NEET 2020 exams, the student's lawyer Alakh Alok Srivastava wrote to prime minister Narendra Modi and education minister, Ramesh Pokhriyal 'Nishank' on August 19, 2020 requesting postponement.
Meanwhile, the Supreme Court is yet to issue its order on petitions challenging the University Grants Commission's guidelines on final year exams.The court had asked all the parties to file their written submissions by Friday.
University exams
The Delhi University, on Monday, wrote to principals of colleges stating that the evaluation of open book examinations will be done through digital or electronic mode by subject teachers.
On the same day, the Delhi High Court directed Delhi University to commence physical exams for final year undergraduate students from September 14, and to work out modalities for stay and transportation of disabled students.
The Delhi High Court also directed the Delhi University to expeditiously declare results of final year undergraduate students who have obtained admission in foreign universities for higher studies.
Central and state universities
Jadavpur University has appealed to its staff to donate a day's salary to a fund that will go into purchasing electronic devices for underprivileged students. The university is set to start online classes from September.
The Delhi University, on Wednesday, directed its hostels to allow re-entry of PhD students in a phased manner but they must quarantine themselves in their room for 14 days.
Hostel committee presidents of the Jawaharlal Nehru University (JNU) have written to the Dean of Students, demanding a waiver of the hostel and mess charges and urging that a circular asking the students to clear their dues before registering for the monsoon semester be withdrawn.
Jamia Hamdard has released the applications for the Integrated ODL – online programmes, including PG diploma, diploma and certificate courses for the session 2020-21.
The Avinashilingam Institute for Home Science and Higher Education for Women, Coimbatore, bagged the first rank in the Atal Rankings of Institutions on Innovation Achievements (ARIIA) in the women's institutions category on Tuesday.
ARIIA 2020 Rankings and IITs
IIT Madras emerged as the winner among public institutions of the second edition of Atal Rankings of Institutions on Innovation Achievements (ARIIA) 2020 which is based on initiatives taken to promote innovation and entrepreneurship on the campus. Kalinga Institute of Industrial Technology (KIIT) Odisha was ranked first in the private university category.
On Monday, the Indian Institute of Technology (IIT) Delhi, celebrating its Diamond Jubilee, released a mission statement for the next ten years which is in line with the National Education Policy (NEP) 2020.
IIT Kharagpur,on Wednesday, launched the Academy of Classical and Folk Arts on its campus. The academy will offer training on music, fine arts and other performing arts.
School reopening
Teachers and employees of all educational institutions in Assam will be tested for COVID-19. Those found negative will have to join work as the state is looking to reopen schools and colleges on September 1, education minister Himanta Biswa Sarma said on Tuesday.
Madhya Pradesh chief minister Shivraj Singh Chouhan, on Thursday said that a decision on reopening schools will only be taken after further assessment of children's safety during the COVID-19 pandemic.
The Tamil Nadu Government has not decided yet on reopening of schools in the state in the wake of the COVID-19 pandemic, School Education Minister, K A Sengottaiyan said on Wednesday.
School education
The Minister of Education Ramesh Pokhriyal 'Nishank' released the 'Students' Learning Enhancement Guidelines', prepared by the National Council of Educational Research and Training (NCERT), for children with limited or no access to digital devices.
At least 27% students do not have access to smartphones or laptops to attend online classes, while 28% students and parents believe intermittent or lack of electricity is one of the major concerns hindering teaching-learning, according to a survey by the NCERT.
A survey, conducted by child rights body CRY, among children in four southern states found that about 94 per cent of the respondents did not have access to smartphones or the internet for online education.
The Calcutta High Court on Tuesday set up a two-member committee to look into the financial statements of private schools mentioned in petitions by parents seeking concession in fees in view of the COVID-19 pandemic.
A report, by the research institution Brookings Institute, on the impact of 'Happiness Curriculum' in Delhi schools has noted that these classes have shown improvements in relationships both inside and outside the classrooms, the Delhi government said on Wednesday
State governments
The West Bengal Government on Thursday launched a 'Banglar Uchhosiksha' portal to provide real-time information on college admission to students.
Maharashtra chief minister Uddhav Thackeray on Thursday directed the authorities to set up a committee of experts to discuss the implementation of the Centre's new National Education Policy (NEP).
Special stories:
Also read:
Write to us at news@careers360.com.